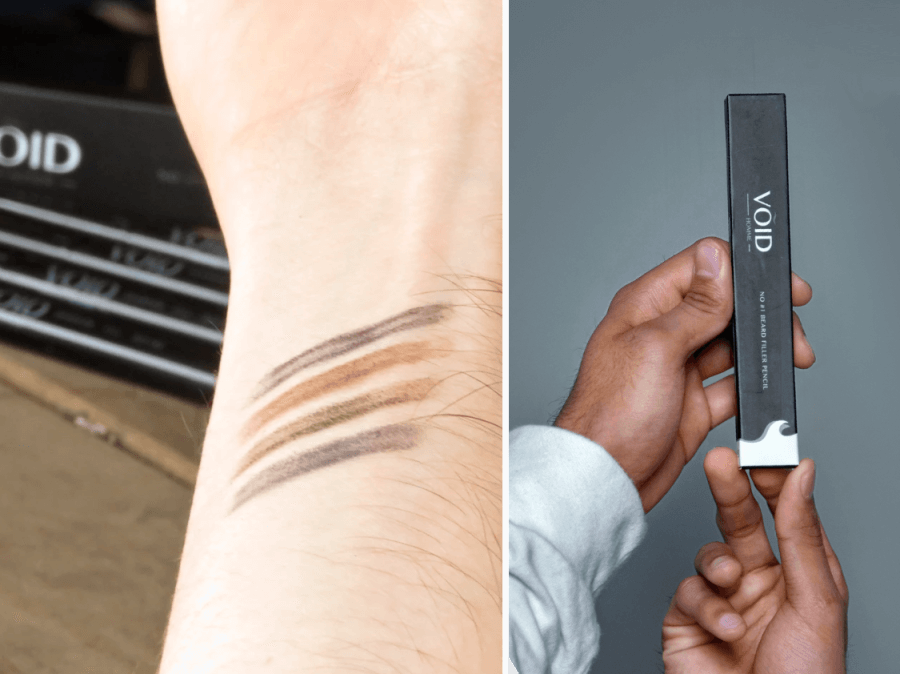 VOID Beard Pencil (Pack of 5)
Women often mistake Beard Patches as a sign of low Testosterone amongst Men so your facial hair could actually be working against you when dating - Until now. Eliminate Beard Gaps & Bald spots Instantly. Add natural-looking fullness in seconds that lasts up to 48 hours.
Instant Beard & Hair Definition/ Fullness.
No mess, No smudges, No stains.
Waterproof, Rain & Sweat-resistant.
Sweat-Proof

Thanks to our advanced technology, your beard will look amazing even during the hottest days at work or even whilst exercising in the gym.

Smudge-Proof

Your Beard Filler should last all day without a problem! No stains left on your hands if you briefly touch your face.

Dummy-Proof

Easy and fast to apply, anyone can apply it and see enhanced volume & shape within seconds.
Get results in seconds
(Literally)
Fill in patches by lightly shading skin with pencil side.
[25 seconds]
Blend the pencil in by brushing the filled area in the direction of your beard hair.
[15 Seconds]
Line up the edges with the pencil for sharp finish.
(Optional)
Have any questions? Check out our FAQ near the bottom
on a scale of zero to hero
Will it work with my beard length?
Yes! Our advanced technology effectively fills patches & defines all beards and facial hair styles, regardless of the hair length or beard texture.
fit for everyone
Will it work with my skin colour?
Yes! See instant results regardless of your skin colour. Our customers are in all corners of the world; Asian, Black, White, Middle Eastern, Mixed & much more!
the best way to do it
It's a no brainer bearder
Here's why men choose VOID Pencil filler over hair fibres or beard dye alternatives.
View Product
Doesn't Stain Skin/Clothes
Easy to Wash Off, No Mess
about the product
What's inside?
VOID Beard Pencil is engineered for immediate, long-lasting results.
The Pencil

Long-lasting & durable, use the pencil side to cover patches by shading areas of little to no hair. Apply more firmly for a darker more prominent finish. Use along the edge of the beard to get a defined look.

The Brush

Strong & effective, use the brush to blend the pencil filler to look more natural & discrete. Brush in the direction of hair for the best results.
Formula for sensitive male skin
Our advanced formula is designed for men, to be long-lasting & safe for sensitive male skin.
Formula for sensitive male skin
Our advanced formula is designed for men, to be long-lasting & safe for sensitive male skin.
Coconut Oil

Castor Oil

Vitamin E
we might have the answer
Frequently asked questions
No, just make sure to use gentle strokes and blend well. Your beard will look naturally well-defined with extra volume & people won't think twice about it.
The VOID Filler is resistant against light sprays of water, like sweat or very quick exposure to rain. However, if your beard gets very wet or you rub your beard when damp, there is a chance you could take some off. Most customers are surprised at how water-resistant we've made it!
1 VOID Filler Pencil with 1 Pencil Side & 1 Brush Side under their lids.
2 Months - According to our customer surveys, for customers who use it only a few times a week.
No, although it lasts a long while when untouched. It can be washed off with a quick facial scrub.
Ingredients: Stearic Acid, Synthetic Japanese Wax, Synthetic Beeswax, Hydrogenated castor oil, Hydrogenated coconut oil glycerides, Microcrystalline wax, Lanolin, c10-18 ester triglycerides, Tocopherol (vitamin E), Colourant.
To view all available shipping methods, and any information in relation to shipping disruptions or delays, visit the Shipping Information article in our Help Centre.
If your order is incorrect, faulty, or missing, please email support@void-homme.co.uk and we'll be able to discuss this further with you. If you are unsatisfied with the goods you have received, you can return them to us within 7 days of receipt, providing they are in original resalable condition. To learn more about our returns policy, visit the Returns Policy article in our Help Centre.
We're Going Viral, Don't Miss out!
The numbers don't lie
20,000,000+
100,000+

1,000+
No. 1 Men's Cosmetic Brand
#1
REAL MEN, REAL RESULTS.
Take a look at a handful of the 50,000+ VOID Homme family who achieved their perfect beard regardless of genetics!
"The best I've seen. Long-lasting, no mess, looks fantastic. I will be a consistent customer."
- Joel T.
"Made me look 10 years younger and makes you feel good"
- Mir A.
"Genuinely a life saver. Works perfectly with anything from stubble to thick beard."
- David P.
"I purchased the beard pencil in 2019 & have been using it daily since I received it. The product is excellent. versatile and functions exactly as advertised."
- Stuart J.